Tips for Small Manufacturing Businesses to Thrive – Not Just Survive – in 2020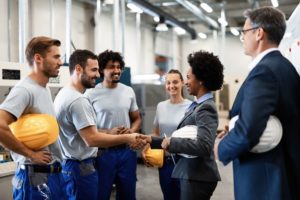 In recent years, the route to becoming a small business manufacturer has become very accessible and has seen promising growth. As a small business manufacturing business owner yourself, you have likely experienced your fair share of challenges, surprises, and opportunities during 2019 – but none quite like the lineup 2020 has rolled out.
A Recap of 2019 for Small Business Manufacturing
Last year, the industry found itself in a unique position. Many manufacturers were operating full steam ahead and delivering solid performance results. At the same time, supply chains struggled to keep up with demand, a short supply in skilled talent threatened to derail momentum, and a shift in the global economic and political landscape created turbulence. The industry also caught a glimpse of how the growth of blockchain and advances in AI and robotics could change how all businesses operate, including small manufacturing.
With the U.S. manufacturing industry seemingly back on track and optimism at the highest yearly average in history (93.9%), it appeared likely that it would surpass growth expectations over the next couple of years. So much so, that industry experts predicted 2020 would be a very important year in the world of small manufacturing. They were right, but not in the way they intended.
The impact of the coronavirus pandemic on manufacturing and small business owners has been huge. According to a survey released by the National Association of Manufacturers in March, manufacturers were already trying to navigate the disruptions and brace for the anticipated financial and operational consequences to their businesses – and that was before all the developments that have taken place over the last few months.
The following survey highlights include some of manufacturing leaders' top concerns:
3% of manufacturers anticipate a financial impact
1% of manufacturers anticipate a change in operations
5% of manufacturers are navigating supply chain disruptions
Tips for Small Manufacturing Companies in 2020
Unfortunately, COVID-19 has already hit many small businesses and the manufacturing industry hard. Small manufacturers are having to take a step back, assess where their business is financially, pivot, and adapt. As you seek ways to fully optimize your practices to weather the current storm, consider the following tips. These strategies will help you navigate the uncertainty and prepare for any outcome:
Leverage Your Supply Chain
Due to operational pressures, juggling multiple suppliers, and other factors, it is easy to lose track of the importance of aligning your supply chain with your business. When your supply chain is structured to fulfill strategic goals, the benefits include operating more efficiently, greater control over inventory, reduction of operational costs, and improved customer satisfaction and loyalty. One way you can accomplish this is by leveraging new technology to gain a competitive advantage. Warehouse management systems (WMS), for example, can help you automate the materials-handling process; this will increase your overall efficiency by boosting inventory-handling accuracy, improving the allocation of human resources, and helping you better control costs. The bottom line: your supply chain needs to compete the same way your company does – re-prioritizing goals as needed to optimize for flexibility and responsiveness.
Improve Supplier Relationships
Your suppliers can have a huge impact on your company's processes. When you partner with a reliable, high-quality supplier, it can actually help your business grow at scale. Working with an unreliable supplier, on the other hand, can quickly create bottlenecks to your workflow and negatively impact your customers. To avoid this, it is important to build and maintain strong communication with each of your suppliers. Be open about what is working and what is not, pay invoices in a timely manner, and do not be afraid to negotiate. It might also help to invest in technology – like supplier management software or purchase order software – to help you keep supplier information and purchase orders organized and all in one place.
Prioritize Customer Engagement
Although manufacturers are a central part of the economy, making sure you have developed an effective marketing strategy should be a high priority. Manufacturers are at the forefront of innovation and production, so don't miss the opportunity to engage with their customers and demonstrate what sets your company apart and how your company is the best fit to help buyers accomplish their goals. When customers research and evaluate manufacturers, they consider several different factors: their website, market presence, brand strength and reputation, case studies, and social media. To boost customer engagement, learn more about search engine optimization (SEO) to improve your website visibility, consider publishing a blog to establish yourself as an authority in your industry, and provide opportunities for customers to engage with you via live video and social media.
Invest in Your Workforce
Two, recent parallel studies – "the Skills Gap in U.S. Manufacturing: 2015 and Beyond" and "Overwhelming Support: U.S. Public Opinions on Manufacturing Industry" – revealed that the U.S. manufacturing industry is in the midst of a serious skills gap that will grow to 2 million between 2015 and 2025. This lack of skilled workers will significantly impact manufacturers' ability to meet customer demand, implement new technologies, and increase productivity. What is the best way to combat this worker shortage? Invest in your staff. Find the time to regularly assess your employees, invest in training and skills enhancement, fill gaps with apprenticeships or internships, and develop succession plans for higher-level positions and other career-enhancing opportunities. Above all, create a positive company culture that attracts and retains top talent.
Establish a Funding Source
The very nature of the manufacturing business can create cash flow issues since manufacturers are typically required to meet their capital needs before invoicing and receiving payment. When an unexpected crisis, situations, or opportunities arise, it can quickly add to cash flow troubles and push the business into a difficult financial position. Your companies' ability to adapt completely depends on having quick access to working capital. This is just one of the many reasons why manufacturers are increasingly turning to invoice factoring companies. Invoice factoring is a financing tool that allows you to sell your business' unpaid invoices to a factoring company to generate immediate capital. Instead of waiting for 30, 60, or even 90 days to receive payment, your business can secure up to 90 percent of an invoice's value in as little as 24 hours.
Security Business Capital's Manufacturing Factoring Services
More and more manufacturing companies are utilizing invoice factoring services to invest in their business and team, maintain positive cash flow, avoid unnecessary debt, and carry them through changes and challenges. If you need to boost your manufacturing companies' cash flow, consider the many benefits of partnering with an invoice factoring company. Security Business Capital has built an experienced and dedicated team of individuals with years of experience in providing cash flow solutions that are both flexible and customizable.
To learn more about how our invoice factoring services work and how Security Business Capital can help your business grow, reach out today for a free quote and/or consultation.