4 Tips for Leading and Empowering Your Team Through a Crisis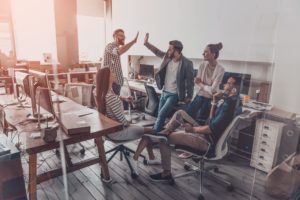 So many people are feeling the impact of outside distractions, extreme uncertainty, and pressure on both personal and professional fronts. It is during difficult and unprecedented times like these that we look for and lean on strong leadership to help us navigate through turbulent waters. As a business owner, there has never been a more critical time for self-reflection to find areas you can improve on as a leader.
Our team at Security Business Capital has put together a list of actions you can take that will help you lead and empower your team during times of crisis:
Focus on Maintaining Perspective
When a crisis hits, it is all too easy to throw yourself into managing the situation at the expense of your physical, emotional, and mental health. As a leader, it is incredibly important to be aware of your own emotional turmoil and its effect on your behavior because they have a huge influence on your leadership abilities. As you ease up your expectations on your team's performance and company goals to adapt, make sure you also take care of yourself. Remind yourself of your priorities, surround yourself with focused, confident people and give your body space and time to recover from the constant stress tough times bring. Prioritizing your health and perspective is the key to being able to persist over the long run and lead yourself and others through big challenges.
Be Transparent with Your Team
Being transparent with employees runs much deeper than open floor plans, regular staff meetings, and detailed reports – it requires a company culture centered on openness. During tough times, it is normal to want to spread positivity to combat the anxiety and despair a constant cycle of negative news brings. But holding back critical information will only make it more difficult for your team to address hard situations and make life-altering decisions. To create a transparent environment, communicate openly and honestly, and provide a regular stream of up-to-date information. Sharing high-level priorities with your team will not only help them understand what they are working towards but will also help you maintain confidence in your leadership and business.
Remain Highly Visible and Accessible
Whether the crisis is internal or external, the best leaders make sure they are both highly visible and accessible. They make it their mission to connect with their team and attempt to add some perspective to events and situations as they unfold. In the midst of uncertainty and chaos, your team will look to you for hope, stability, and direction. They will rely on you to counteract cynical news and the fear of the unknown by taking a hands-on approach and leading the way. In these moments, it is important to circle back to the purpose and vision of your company. Reminding your team of that higher goal and providing them with a path forward will build the foundation of trust and community you need to survive – even thrive – through hard times.
Develop a Long-term Vision and a Short-term Plan
During times of uncertainty, it is more important than ever to build unity through a core purpose. To accomplish this, make sure your team understands what is happening in real-time, how it impacts the future of your business, and most importantly, their individual role. First, develop a long-term vision, and then create a short-term plan. Use your company's purpose and higher goal as the glue to keep your team invested in its future. If your long-term vision is compelling, it will align and energize your team; it will not only give them a goal that can be broken down into actionable steps but will also construct a company culture that can weather any storm.
With time, the urgency of every crisis fades and transitions into recovery and reflection. At that point, it is important to assess the strengths and weaknesses of your approach. Do you feel that you helped create a "can-do" environment? Did you provide all the resources your team needed to be successful? Were you able to maintain sufficient cash flow to keep your company running smoothly? Did you have a specific plan in place for recovery? Pinpointing the areas you can improve will help you better prepare your team for any other future crisis.
How Invoice Factoring Can Help Your Business Through Tough Times
Could your business benefit from the extra cash invoice factoring provides to manage cash flow gaps and easily cover payroll? Invoice factoring can give you the confidence that you can meet payroll and other expenses each week, while also ensuring you have enough cash on hand to continue your operations and handle any crisis period. Rather than waiting for 30, 60, or even 90 days to receive payment from your customers, you can sell your invoices and gain immediate access to cash flow for your business.
To make sure your company has the capital and tools it needs to be successful, consider the advantages of partnering with an invoice factoring company. We have built a dedicated team of individuals with years of experience in providing flexible cash flow solutions that help businesses thrive. Our invoice factoring services can transform your business' cash flow, enabling you to effortlessly cover daily costs and maintain a strong foundation on which to grow.
To learn more about how our invoice factoring services work, get in touch with us today for a free quote and/or consultation.