Turning Accounts Receivables Into Cash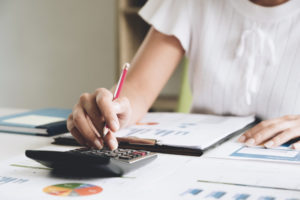 Two of the biggest challenges small businesses face, slow-paying customers and securing financing. As your business grows, so does your business' accounts receivable and so does the amount of capital needed to carry you through until you receive payment. Unfortunately, unpaid invoices and a lack of funding can both lead to the same result: cash flow issues.
But messy accounts receivables is simply part of running a successful business, or are they? Consider this disruptive concept: what if you could replace accounts receivable and debt with immediate capital? This is just one of the many reasons why small business owners are turning to invoice factoring.
What is Invoice Factoring?
Invoice factoring allows your business to sell its outstanding accounts receivable to a third-party factor, like Security Business Capital, at a discount. The factoring company then advances the working capital needed against your business' unpaid accounts receivable. This advance rate can range from 80% to 90%, depending on the size of the transaction and your industry. Once the factoring company receives payment from your customer, you will be given the remaining balance of the invoice, minus any factoring fees.
Turn Accounts Receivable into Quick Cash
Slow payments can hurt your business' cash flow, which then impacts your ability to cover costs and fund growth. When your cash it tied up in accounts receivable, you will be unable to hire new employees, invest in new equipment or fund marketing and advertising efforts. It will also be difficult to make repairs and increase inventory. Unfortunately, the older past-due receivables become, the more difficult they are to collect.
If your business is struggling with the negative effects of past-due receivables, invoice factoring provides a solution. You can leverage unpaid invoices to generate cash on hand andsecure assistance for other back-office tasks like checking payment progress and maintaining records. The amount available through invoice factoring is only limited by the number of eligible invoices your business has to factor, making it an ideal solution for your rapidly growing business.
Avoid Unnecessary Business Debt
Entrepreneurs and business owners are often led to believe that debt is a necessary part of expanding their business. However, more debt is not always the best answer for growth. Debt requires repayment – with interest. Interest payments alone, not to mention principal payments, can quickly chip away at your business' cash flow. This will make it difficult for your business to expand, and it will limit your ability to take advantage of opportunities for future growth.
Many small businesses that qualify for traditional lending soon find themselves right back where they started: in need of quick capital, but now with an added burden of debt. Invoice factoring, on the other hand, is a flexible, debt-free cash solution. Factoring outstanding invoices provides money your business has already earned and is simply waiting to be paid. It is not a loan. Your business secures much needed working capital, without adding any debt.
Who Can Use Invoice Factoring?
This financing option is used by a long list of business types and industries. Small and midsize businesses, startups, businesses in a turnaround phase and businesses experiencing rapid growth, are just a few. Businesses that experience a gap between when cash comes in and when expenses are due also benefit from the flexibility and quick capital invoice factoring provides.
Invoice factoring is frequently used by a wide range of industries for a variety of reasons, including:
Oil and Gas – Growth opportunities in the oil and gas industry require significant capital investment, and companies commonly wait 30, 60 or even 90 days to be paid.
Transportation – Fluctuating costs for fuel, wages and vehicle maintenance can cause cash flow issues for those in the transportion industry.
Staffing – Companies must meet their payroll needs weeks before their customer has lined up their invoices for payment.
Business Services – Waiting up to 90 days for payment is not only restrictive for professional and business services firms, but also time consuming.
Manufactures – The manufacturing industry experiences an ongoing cycle of repair and maintenance costs, along with payroll and other operating expenses.
Invoice factoring provides your small business with financial stability for long-term growth. Through factoring unpaid invoices, you can secure immediate capital to cover day-to-day operating costs and say "yes" to new opportunities – all without taking on debt. The key is to find a factoring company that specializes in working with your industry and its unique needs.
Security Business Capital's Invoice Factoring Services
At Security Business Capital, we know small businesses often face unforeseen cash flow issues and need funds to cover those costs quickly. The team of experts at SBC have decades of experience in helping companies secure the funds they need to operate smoothly and take advantage of opportunities. Through SBC's invoice factoring services, you can use unpaid invoices to secure the cash you need quickly and easily. Get in touch with us today to find out how we can help your business!