Top 4 Small Business Trends to Look for in 2019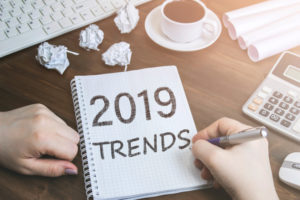 With the New Year officially here, many small business owners are wondering what to expect as we begin the first month of 2019. How will new technology impact strategies and processes? Will hiring be a challenge for small business owners? What changes can we expect to see in the workplace?
While it is hard to know for sure what changes 2019 will bring, it is possible to make a few predictions. Taking the time to recognize important trends will help you make the best decisions for your business and start the new year strong. Here are four trends every small business owner should prepare for this year:
Gen Z takeover
In 2018, it was millennials that ruled the market. Now the largest generation in the U.S. labor force, millennials' unique perspective and active use of digital content caused a significant shift in social media, tools and tactics, video and mobile marketing. But as we near a new decade, it is Gen Z that will dictate the future of a business' success.
Born between 1997 and 2016, Gen Z is expected to represent 40 percent of consumers by 2020. The first group to never know a world without the internet, these "digital natives" rely heavily on the internet for consumer decisions. Savvy small business owners are already looking at this group as a huge opportunity, realizing if they strategically market to this generation it means a built-in customer base for years to come.
Remote work will become the norm
Despite many office traditionalists belief that workers are more effective sitting at a desk in the office, evidence suggests the opposite. A two-year Stanford study found that work-from-home employees tend to put in a full day's work (or even more) because they avoid fighting commute traffic and have a better work/life balance. In addition, operating costs dropped by about $1,400 per employee for businesses that allowed staff to work from home.
There are many ways you can incorporate this option: offer remote work for summer days when employees' children are out of school, for severe weather events, as part of a promotion, on an individual, probationary basis, etc. Providing your employees with the option to work one or two days from home can increase overall productivity without jeopardizing the cohesion of your team.
Continued search for top talent
With U.S. employment dropping to 3.7 percent in 2018, the lowest in nearly 50 years, vying for top talent has become a challenge – particularly for small businesses. In the final months of 2018, small business hiring began to shrink. The reason was not a slowing economy. Rather, small businesses struggled to find quality candidates.
According to the Future Workforce Report, which explores U.S. business hiring, 67 percent of small businesses plan to add to their team this year. To compete with the higher salaries and richer benefits offered by larger organizations, small businesses will have to find ways to attract top talent. Some examples are offering creative benefits, flexible work arrangements and prioritizing employee work-life balance.
Live streaming video content
While this creative small business idea already exists, it will definitely grow in 2019. Gone are the days of impersonal and generic marketing. Customers today seek real connections. Live streaming video content has become a vital component of successful businesses, allowing them to establish real connections with their customers.
Video is one of the easiest ways you can build your brand, connect with your audience and stand out from your competitors. From streaming a product launch and product reviews to running B2B webinars, the possibilities really are endless. This year, you can expect live videos to become a fundamental part of many small business' marketing strategies.
Security Business Capital's Invoice Factoring Services
If your small business needs capital to hire additional staff, fund growth and say "yes" to the opportunities the new year brings, consider the many benefits of invoice factoring. Security Business Capital has built an experienced and dedicated team of individuals with years of experience in providing flexible cash-flow solutions that help businesses grow. Small businesses, startups, businesses in a turnaround phase and businesses growing rapidly are just a few of the business types that successfully use SBC's invoice factoring services.
If your business is seeking alternative financing solutions to meet expenses or fund growth, Security Business Capital offers a fast, simple and hassle-free setup process. To learn more about how our invoice factoring services work, get in touch with us today for a free quote and/or consultation.