Small Business Strategies To Improve Timely Payments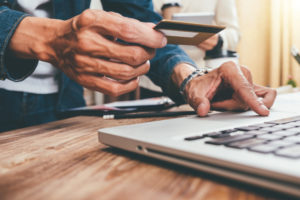 Getting customers to pay on time is one of the biggest challenges small business owners face. For every customer that pays on time, there is another who consistently pays their invoice late. Overtime, it can have a big impact on your business' growth. Why do on-time payments matter so much to your business' success?
Cash flow
When capital is tied up in accounts receivable, you will be unable to make your own payments on time and cover day-to-day operating costs.
Opportunities
Slow payments will also make it difficult to take on large orders, since large or multiple orders require more capital to service.
Expansion
If these cash flow and bookkeeping problems are left unattended, it will become harder to predict overall progress and your ability to expand.
Fortunately, there are a variety of strategies you can use to improve timely payments. Here are six ways you can optimize your business' billing practices:
Tighten your invoicing process
The first step is to audit your invoicing process. Make sure your invoices include all necessary details, while still maintaining clarity and readability. Invoices should list the products or services purchased, unit prices, quantities, taxes, applicable discounts, the final amount and the payment due date. All terms, conditions and late penalties should be clearly defined as well.
If you are billing for just part of the job or particular service dates, make sure this is clearly stated in the invoice. Establishing a consistent billing schedule will also help your customers know when to expect an invoice from you. The more consistent you are and the easier it is for customers to understand your invoices, the less likely you will experience a payment lag.
Share payment expectations early on
Discussing payment terms upfront not only increases the chances of you getting paid on time, but also helps maintain good customer relationships. Before you start the work, make sure your customer understands your payment terms and expectations. Then, take some time to ask questions and get to know your customer. What are your customer's expectations around payment?
Establish how your customer will be billed for the project or product and how long it will take to receive payment. You should also outline whether the payment will be in one lump sum or a multi-payment cycle. Detailing your terms and expectations from the start will help you avoid confusion on late payments down the road.
Optimize your payment terms
According to research by FreshBooks, a leading small business invoice and accounting software, the wording of payment terms does have an impact on the number of days it takes to get paid. Businesses that added a simple "please" and "thank you" increased the percentage of invoices paid by more than 5 percent. Customers also paid faster and more often when the word "days" was used, rather than "net". In addition, while the term "upon receipt" is open to interpretation, using specific terms like "21 days" will get you paid faster.
You can also offer a small discount or incentives for customers who pay you before their invoice is due. For those who pay late, consider charging an interest penalty. Keep in mind interest penalties sometimes lead to slower payments, but a higher percentage of your invoices will get paid.
Add more payment options
The more payment methods you offer, the easier you make it for your customers to pay you and, therefore, the more likely you will have money coming in. Thanks to the ever-evolving payments industry, your small business has a long list of payment tools and platforms to choose from. For example, the rise of smartphones and mobile devices has offered small businesses the ability to accept payments on the go.
The key is to weigh the cost of each option with the speed and/or flexibility your business gains. Is the extra cost per transaction worth the ability to skip waiting weeks for payment and be paid then and there? Choosing the perfect option for your business should be based on the type of business you have, how many payments you receive and your budget. The goal is to streamline the payment process and make it as convenient as possible for your customers to pay, so you get paid faster.
Pay attention to the little things
When it comes to a positive payment experience, it is important to pay attention to the "little things" – small details that add up to have a major impact. For example, the timing of when invoices are sent and the styling of the invoices themselves can affect the speed in which you receive payment. Clean and concise invoices help you streamline the process; the confusion mistakes like spelling errors, incorrect dollar amounts and poor formatting can slow down the payment process.
You should also make sure your invoices are visually appealing. Adding your business logo to your invoice, for example, helps to differentiate you from the other invoices your customers are receiving. It is also important to make sure your invoice does not "go missing" because it was sent to the wrong person or department. Double-check that you have the address for the individual or department responsible for paying your invoice.
Use invoice factoring
Changes to your invoicing process takes time. If your business is in a tight cash flow situation and needs cash quickly, consider the benefits of invoice factoring. Partnering with an invoice factoring company allows you to use unpaid invoices to generate cash on hand quickly and easily. Because your business is receiving money it has already earned, you can avoid taking on an unnecessary burden of debt.
In addition to helping you manage past-due receivables, the assistance a factoring company provides for other back-office tasks can considerably reduce the time, resources and manpower required for in-house accounts receivable tasks. You secure the help you need to speed up the payment process, while still maintaining control over your business' invoices.
All in all, with a proactive approach and a few strategic changes, you can significantly improve how quickly your small business gets paid. In turn, your business will have the cash and flexibility it needs to say "yes" to new jobs, cover payroll and purchase new equipment and supplies.
Security Business Capital's Invoice Factoring Services
The team of experts at Security Business Capital specialize in helping companies secure the funds they need to operate smoothly, grow their business and take advantage of opportunities. SBC's invoice factoring services allow you to use unpaid invoices to secure the cash you need quickly. Oil and gas services, temp staffing, manufacturing/distribution and transportation are just a few of the business types that use Security Business Capitals's invoice factoring services to generate cash on hand.
If you are interested in learning more about how our invoice factoring services work and how they can help your business grow, get in touch with us today for a free quote and/or consultation.