Oil and Gas Drilling Companies Go Remote to Cut Costs Amid Pandemic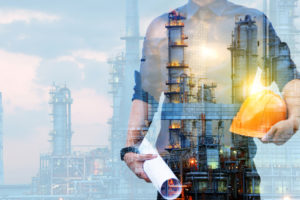 The COVID-19 pandemic has pushed industries to rethink how they do business – the oil and gas sector is no exception. In a race to maximize efficiency, oil and gas companies are shifting from on-site specialists and embracing remote drilling and fracking engineers. As more and more oil workers find themselves working from offices or even their homes, experts say these changes could very well be permanent.
In some ways, the oil industry has been here before. During the last downturn in 2014, it was new technologies that enabled oil and gas service companies to cut costs by approximately 30-40%. By digitizing operations and automating processes, oil companies were able to reduce the number of people they had on-site and perform more tasks remotely from a simple laptop.
Measurement-while drilling (MWD) technologies, for example, have allowed oil companies to achieve greater productivity over the last few years. In fact, more and more oil and gas drilling companies are relying on remote MWD operators who work in operations centers and perform directional drilling from these locations. Just last year, Chevron announced that 95 percent of its directional drilling rigs in the Permian Basin are being operated from a remote operations center.
In the past, many oil producers were hesitant to give up traditional means of drilling and embrace the cost-saving remote working technologies. Now, the oil and gas companies that do much of the on-site work for producers say they are currently retooling and ready to adopt remote operations to support drilling activity. In short, the current crisis has simply accelerated what was already on track to become one of the industry's most transformative moments: the reshaping of the oil and gas workforce.
How to Thrive in the New Environment
Already, there are new approaches and benefits emerging as oil and gas companies adopt remote work and scale up technology and artificial intelligence (AI) investments. Oil giants like Chevron Corp., for example, have shifted to remote teams to continue supporting directional drilling and other operations; this has allowed them to maintain and even boost productivity and significantly cut costs.
Remote drilling has also enabled specialists to make faster drilling and blasting decisions and reduce downtime, while also boosting productivity and safety. It is also helping to improve the oilfield workforce's work-life balance and save resources. Rather than spending countless hours commuting or long stints on offshore rigs, oilfield workers are now able to oversee remote drilling across the region from their office – less time traveling, more time spent with family.
Experts say successfully managing these uncertain times and seizing opportunities in the oil and gas industry will likely favor those who see the advantages of remote work and adopt remote operation centers. However, investing in new technologies and transitioning to a remote workforce requires additional working capital. For the oil and gas companies struggling with low or unstable cash reserves amid the pandemic, capital is in short supply.
Boost Cash Flow with Oilfield Factoring
Timing is everything, especially for oil and gas companies. If your business provides services in the oil and gas industry, invoice factoring can help you boost your company's cash flow to manage the unexpected and prepare for opportunities. What is invoice factoring? Also known as oilfield factoring, invoice factoring is an alternative financing tool that allows your business to use its outstanding invoices to generate quick cash (in as little as 24 hours).
The factoring process is fast and straightforward. Your oilfield company sells its outstanding accounts receivable to a factoring company (the factor) in exchange for an immediate cash advance. Known as the "advance rate," reputable factoring companies like Security Business Capital have the ability to advance up to 90% of your invoice's value. Once the factoring company receives payment from your customer, the factor will give you the remaining balance of the invoice, minus a small factoring fee.
Because factoring is not a loan, you are not creating a burden of debt for your oil and gas company to repay; you are simply freeing up money you have already earned and are waiting to be paid. These funds can then be used for whatever need your business may have, from boosting cash flow and covering daily costs to investing in additional equipment and new technologies.
Security Business Capital's Oilfield Factoring Services
Are you pushing your business to its limits, but still unable to keep pace and maintain cash flow during these uncertain times? Located in the heart of the Permian Basin, Security Business Capital understands changes and opportunities can happen overnight. The team of experts at Security Business Capital have years of expertise in providing purchase order funding solutions that help oil and gas companies thrive. Whether your business engages in oilfield hauling, pipeline construction, drilling, exploration services, or any other facet of the oil and gas industry, invoice factoring can help.
To learn more about how our oilfield factoring services work and how they can help your oil and gas company, contact us today for a free quote or consultation.