New Year Planning: 6 Essential Things Every Small Business Should Do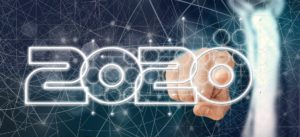 Between the end of one year and the start of another, every business owner should take the time to sit down and do a little planning. To make sure your business has what it needs to stay on the right track, it is important to assess where your business currently stands and turn your attention to the future. How is your business performing? What goals do you want to set for the new year? What are the steps required to meet those goals?
Here are six essential things you should add to your new year's to-do list. These tips will not only help you plan out 2020 in more detail but also make sure the planning process runs smoothly for your business.
Revisit Your Invoicing Process
When a customer's invoice remains unpaid for a lengthy period of time, it can seriously affect your business' cash flow and long-term growth. The first step in starting the new year off on the right foot is to audit your invoicing process. Do your invoices include all the necessary details? Do you discuss payment terms with your customers upfront? Is it time to optimize your payment terms? How many payment options do you offer? The easier you make it for your customers to pay you, the more likely you will have money coming in. It literally pays to improve your business' billing practices.
Secure Flexible Funding for Further Growth
During the course of 2020, unexpected business expenses are likely inevitable. Whether you have plans for expansion or are hoping to hold steady, it is important to always maintain a cushion of cash. To help you deal with unexpected costs and ensure cash flow remains strong, apply for affordable financing sooner rather than later. Ideally, you want to secure flexible funding that offers quick capital and helps you grow and support your business. Invoice factoring, for example, provides cash in as little as 24 hours, does not add debt to your balance sheet and offers unlimited funding potential. As your accounts receivable grow, so does your business' line of credit.
Meet With an Accountant or Bookkeeper
Without sufficient working capital, your business will struggle to operate smoothly in the new year. To make sure your business is in tip-top shape, you will need to do a little financial housekeeping. If analyzing financial statements is not your strong point, consider meeting with an accountant or bookkeeper. They can help you review financial statements, answer questions about deductions and establish a timeline for your tax deadlines. Moving forward, strive to review your books on a weekly basis in 2020, so you can better monitor and evaluate weekly revenue earned and expenses incurred by your business.
Consider Your Staffing Needs
The start of the new year is peak hiring time for many businesses. If one of your New Year's resolutions is to add to your team, now is the time to prepare to bring in new employees. This can be an incredibly time-consuming process; helping new employees acclimate to their new surroundings, colleagues and workflow require considerable time and energy. However, the payoff from implementing a quality onboarding process is undeniable: confident employees contributing faster and your team working seamlessly.
Examine Your Digital Footprint
Your business' digital footprint is the trail of data you create while using the Internet. It can include anything about your business or written by you. Your digital footprint is much more than the things you actively put online like the blogs you publish, the photos you share, the emails you write, the websites visited, or social media updates posted; it includes your business' information pulled from passive online activities as well. If you are hoping to surpass the competition in 2020, you should reevaluate how you are marketing your business and make sure you have a strong presence online. The key is to provide consistent, valuable content that will ultimately help you gain credibility and authority in your industry or niche.
Take a Look Back at 2019
So much can happen in a year, both good and bad. Before you start setting New Years' resolutions, take a moment to reflect on the past twelve months. What were your and your team's biggest achievements and victories? What hurdles did you face? Determine where your business is in regard to where you want it to be. This will allow you to evaluate what went well for your business this year and pinpoint the areas in which you can improve. The more thorough and detailed your reflections are, the more they can help you and your team in 2020.
If you are ready to achieve new goals, the beginning of a new year is a particularly opportune time to sit down and plan. Ultimately, strategic business planning will ensure you have the necessary tools to maintain financial and operational goals and to build a positive work environment where your team can thrive.
Security Business Capital's Invoice Factoring Services
Do you need extra cash to prepare for the new year and set your plans in motion? To make 2020 your best year yet, consider the advantages of partnering with an invoice factoring company. Security Business Capital has built a dedicated team of individuals with years of expertise in providing flexible cash flow solutions that help businesses grow and thrive. Our invoice factoring services can transform your business' cash flow, enabling you to effortlessly cover daily costs and easily jump at opportunities to expand.
To learn more about how our invoice factoring services work and how they can help your business grow, contact us today for a free quote and consultation.