How Does E-Commerce Continue to Reshape Trucking Industry Operations?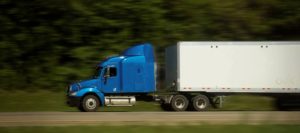 Over the last twenty years, e-commerce has dramatically changed the way consumers spend their money and how and where they shop. The convenience of shopping online has gone on to transform the way the world functions, especially for trucking companies. This rapid growth of e-commerce has affected the trucking and freight industry in both negative and positive ways. It has especially placed pressure on the trucking industry to alter their playbooks, adjust their operations and adapt to ever-shrinking delivery windows.
Here are just a few of the challenges and opportunities the trucking industry faces today:
Shorter Delivery Times
Trucking companies are a critical link between retailers and consumers. As e-commerce companies have grown, so have consumers' demands for products to be readily available with fast shipping at little-to-no extra cost. According to the results of Retail TouchPoints 2018 Last Mile Survey, 65 percent of consumers want greater shipment flexibility and 61 percent want faster deliveries. This demand for speedier shipping times has not only placed pressure on retailers and fulfillment centers, but also on truckers.
To remain flexible, truck drivers are adapting to these changes in several ways. Shorter pickup-and-delivery jobs are replacing the longer inter-regional or national haul jobs. New regional distribution hubs have caused the average length of a haul to drop 37 percent, from about 800 miles per trip to about 500 miles per trip. As the importance of "last mile" deliveries (the final stretch before a package is delivered to the customer's doorstep) also increases, more carriers are providing "white-glove" value-added services like installation, product assembly, and repairs.
Driver Shortage and Retention
In many ways, the rise of online shopping has been good news for the truck driver shortage. As e-commerce grows, so does the need for short-haul truck drivers. The U.S. Department of Transportation has estimated that by 2040 the U.S. annual freight volume will increase by 49 percent to 29 billion tons. The majority of that volume will be hauled by trucks.
These short-haul drives have opened up new opportunities to attract younger drivers and lower driver turnover rates. For example, since truck drivers are operating in smaller regions completing both short-haul and last-mile trips rather than over the road (OTR), it creates more stable work schedules. In turn, truck drivers can enjoy ample home time with family and friends. These lifestyle differences continue to attract new drivers to the industry and help retain the existing pool of drivers.
Changing Equipment Needs
As the trucking industry evolves to accommodate e-commerce, the types of trucks being purchased are also changing. More and more carriers are relying on single-unit trucks to fulfill short-haul trips and "final mile" services. According to the American Transportation Research Institute (ATRI), registrations for single-unit trucks increased by 7.8 percent between 2007 and 2016, compared to 4.4 percent growth in combination truck registrations.
"White glove" deliveries of large and bulky items to residences have also influenced the equipment being used by the trucking industry. With the help of technology, both motor carriers and equipment manufacturers are experimenting to address the challenges the increase of urban package deliveries has created. Some of these new technologies being tested include drones, delivery robots, smart cargo compartments, and autonomous delivery vans.
Hours of Service Regulations (HOS)
Along with every other aspect of the industry, e-commerce has also impacted how trucking relates to HOS regulations. The federal HOS regulations govern the maximum amount of time truck drivers can drive and work, and the minimum amount of time they must spend resting between shifts. Long-haul truckers that make frequent trips and work under tighter delivery windows quickly hit these HOS regulations. E-commerce truck drivers, on the other hand, often find themselves exempt from some of these regulations.
With the increase of e-commerce, many truck drivers are shifting to more local short hauls, which involves working under more flexible rules. If a truck driver is driving under a 100 air-mile radius, returns to the work location and is released within 12 consecutive hours, they are not required to log their hours. While long hauling still offers job opportunities, the flexible HOS regulations surrounding short hauls are making them very attractive and highly sought-after.
Use Freight Factoring to Seize E-Commerce Trucking Opportunities
Are you hoping to expand your fleet, hire new drivers and revamp the services your trucking company offers? Implementing the changes necessary to keep up with e-commerce requires extra cash. Whether you own a large fleet of trucks or operate a single truck, freight factoring can provide the capital you need to break into e-commerce and expand your business.
Freight factoring, also known as transportation factoring, allows your business to use its outstanding invoices to generate cash quickly. Instead of waiting for 30, 60 or even 90 days for your company's invoices to be paid, you can sell them to a factor at a discount and get paid immediately, so you can use the capital to fund new loads and improve your business. If your trucking company is seeking alternative financing solutions to accommodate the needs of e-commerce and fund growth, Security Business Capital offers a fast, simple and hassle-free set up process.
We have built an experienced and dedicated team of individuals with years of expertise in providing flexible cash flow solutions that help businesses thrive. To learn more about our freight factoring services, contact us today for a free quote and/or consultation.