Business on a Budget: 4 Money Saving Tips for Small Businesses
It goes without saying that a business owner works long hours to ensure the success of their business. This includes closely managing the business's financial statements and maintaining sufficient working capital for growth. Unfortunately, many entrepreneurs overlook the extent of their business expenses and accrue a crippling amount of debt. To avoid this situation, it's important that you make sure every dollar spent is tied to a dollar earned. Are those "necessary" business expenses and decisions really helping your business grow?
The following four tips could help you save thousands and build a thriving business:
Identify your Five Largest Business Expenses
It's important for new and small businesses to properly mana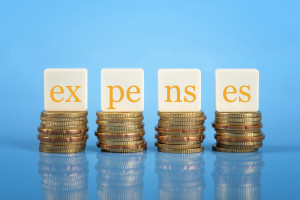 ge both small and large expenses. Small and unexpected expenses add up quickly, and large expenses can cost your business thousands overnight. Using your business' cash-flow budget (also known as a cash-flow forecast), identify the top five things that your business spends money on each month. Some of the most common large expenses include office space, payroll, inventory, advertising, and travel. Many new companies have large travel and transport expenses from arranging meetings with potential clients and vendors. With so many new, ever-evolving advertising methods (beyond the traditional, local newspaper) small businesses also devote much time and expense to campaigns.
Although a business' top five expenses will differ depending on business type and industry, every business should find ways to cut costs. Determine how much inventory is necessary to maintain customer satisfaction, without tying up cash that could be used elsewhere. If advertising campaigns are not working, remove them. For the business startup, consider hiring part-time or freelance staff. Identify which parts of your business are generating the greatest costs, and then take steps to control them accordingly.
Strategically use tax deductions
Depending on your business type, you may qualify for certain tax deductions. Common tax deductions for small businesses include car and truck expenses, contract labor, repairs, insurance, commissions, advertising, travel, meals and entertainment, machinery, and equipment rent, supplies, utilities, business property rent, etc. To take full advantage of these deductions, take some time at the beginning of the year to consult with your tax preparer. Ask them what expenses you should track closely in the coming year.
Expenses can be tracked the old-fashioned way by using a spreadsheet and your monthly bank account statement. Or, if you prefer a more modern method, you can download a finance and accounting app. Keeping your receipts throughout the year allows you to track your expenses and justify your deductions (in the event your accountant or the IRS requests evidence). The goal of this record-keeping is to lower your taxable income by maximizing your deductions. Therefore, increasing the amount left in your pocket at the end of the year.
Make sure every dollar is working for you, not against you
As mentioned above, both small and large expenses should be frequently assessed and continuously managed. This process also includes developing a strategy. You want to make sure that every dollar being spent – both current and new expenses – is working for your business, not overwhelming it with debt. As you analyze your financials, ask yourself two important questions: Is that expense helping your business grow? How is that expense bringing in more revenue?
Many entrepreneurs and small businesses concentrate their spending on branding and building awareness when they should really focus on leads. They also jump on providing offers without first adding value. In an effort to develop a strong strategic plan, they create a marketing campaign that is simply too complex to implement. When it comes to business development, focus your spending on generating more leads and driving new business. This will ensure your business capital is being used for purposeful expenses that will grow your business and avoid unnecessary debt.
Choose financing that avoids the burden of debt
There are many reasons why a startup or small business might need to seek financing. For example, rapidly growing businesses often experience the challenge of maintaining sufficient capital to take on new orders. While their business is thriving, their capital resources are quickly exhausted. Instead of turning away orders, securing additional funds allows them to accept larger and even multiple orders. Other reasons to seek financing include: covering day-to-day expenses, equipment and machinery purchases, startup costs, and payroll, among many others.
It's critical that you choose financing that keeps your business's short- and long-term financial health in mind. While many business funding options promise quick cash, they also involve a burden of debt and risk. In the long run, this financing can cost your business more than it helped. Thus, many businesses turn to flexible cash-flow solutions like invoice factoring.
The invoice factoring process involves selling your business' accounts receivable to a factoring company at a discount; thus, factoring is a financial transaction, not a loan. The invoice factoring company then advances the working capital you need against your business' unpaid accounts receivable. Because the factoring company is offering your business money it has already earned, you can maintain a steady cash flow without selling equity or adding a burden of debt and risk.
Security Business Capital's Business Funding Solutions
Security Business Capital, based in Midland, Texas is a premier invoice factoring company with years of experience. The experts at Security Business specialize in invoice factoring, purchase order financing, and spot factoring. We help companies secure the proper funds they need to operate and grow their business while taking advantage of good opportunities. Oil and gas service companies, transportation, temporary staffing, distribution and manufacturing, business services, and government, are just a few of the industries in which Security Business provides services. We understand what it takes cash flow to efficiently run a business, and we strive to be a valuable partner to your business.
If you'd like to learn more about Security Business Capital's funding options, contact Security Business Capital for a free quote and/or consultation.