Behind the Scenes Benefits of Factoring on Small Business Cash Flow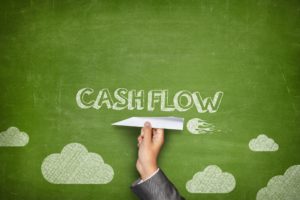 For a small and growing business, managing cash flow can feel like a roller coaster ride. You need to keep enough cash on hand to meet payroll, replenish inventory, cover rent and operate smoothly. At the same time, you also need enough capital to take on new orders and create a cushion for unexpected expenses and opportunities.
More and more small business owners are discovering the benefits of utilizing alternative financing options, like invoice factoring, to manage growth. In fact, according to a Federal Reserve report, roughly a third of small businesses that applied for funding in 2018 sought it from an online lender. These options not only provide a quick source of funding but also dramatically improve your business' cash flow.
What is Invoice Factoring?
Far from a new cash solution, invoice factoring dates back to ancient Mesopotamia. While the role of factoring companies has not changed much over the past few thousand years, their value has. In the past, invoice factoring was easier for larger businesses to access. Thanks to technology, invoice factoring today is more accessible, and factoring companies can target the needs of specific industries. Startups, small businesses, and midsized businesses can easily secure the cash they need to cover expenses, boost growth and fund expansion.
The invoice factoring approval process is known for being more streamlined and less cumbersome than traditional lending options. The process involves your business selling its accounts receivable to the factoring company at a discount. The factor then quickly advances 80% to 95% of an invoice's value, known as the "advance rate." You receive the remaining amount, minus a small fee, once your customer has paid the invoice. Essentially, your business is leveraging its unpaid invoices to generate cash on hand.
In addition to supplying cash in as little as 24 hours, another big advantage of invoice factoring is that your business is given cash it has already earned, allowing it to avoid unnecessary debt and risks. This cash can then be used for a long list of needs and challenges. From buying new equipment and adding to your team to boosting inventory and taking on new orders, your business gains access to the capital it needs to operate smoothly and efficiently.
There are also many less obvious benefits of invoice factoring that make it the ideal cash solution. Here are some of the other ways factoring works behind the scenes to help you grow your business.
Greater Flexibility
Have you encountered a chance to expand your company? Is your business experiencing an increase in large projects or multiple orders? If you do not have enough cash on hand, these opportunities can easily pass you by. For example, a potential customer reaches out to your business with a $25,000 job, but you need $10,000 upfront for supplies and payroll to complete it. Selling some of your business' unpaid invoices provides the money you need to say "yes" to new customers and take on large jobs, without having to go into debt to do so.
Improved Credit Rating
Invoice factoring can also help you eliminate debt, not just avoid it, and rebuild your credit. This financing tool provides the capital and flexibility needed to catch up on payments and fulfill obligations to creditors. Over time, this capital will help you pay down old debt and effectively manage operating costs moving forward. Ultimately, allowing you to repair and rebuild your credit score. Depending on the factoring company you choose to partner with, you might also be able to put together a positive credit history if the factor reports your business relationship to a credit agency.
Smoother Business Cycles
Experiencing highs and lows is simply part of running a business. Most businesses go through cycles; even your entire industry can plummet through no fault of your own. When this occurs, traditional lenders will be reluctant to provide your business money, at a time when you need it most. Because factoring companies are more concerned with the creditworthiness of your customers, you can easily secure the cash you need to weather a downturn when business drops off. Rather than waiting 60, or even 90 days to receive payment from customers, factoring unlocks cash your business has already earned so you can manage cash flow dips.
Saves Valuable Resources
If you choose to, you can also take advantage of the back-office support services reputable factoring companies offer. An experienced factoring team can help you make informed decisions about extending credit to potential customers, in addition to helping with invoice review and collections. They can also work with you to maintain records, check payment progress and limit financial risk. All in all, taking advantage of the factoring company's resources can free up you and your administrative teams' valuable time. With less of your own resources tied up, you can focus more on growing your business.
Security Business Capital Invoice Factoring Services
Security Business Capital, based in Midland, Texas, is a premier invoice factoring company with years of experience. The team of experts at SBC specialize in helping companies secure the funds they need to operate smoothly, grow their business and take advantage of opportunities. Oil and gas services, staffing, manufacturing and distribution, and transportation companies of all sizes successfully use Security Business Capital's invoice factoring services to generate cash on hand.
If you are interested in learning more about how our staffing factoring services work and how they can help your business grow, get in touch with us today for a free quote and/or consultation.