7 Great Ways to Express Your Appreciation to Your Team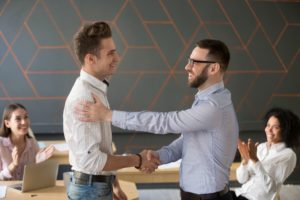 The U.S. is experiencing one of the largest talent shortages on record, which is due to a strong job market and the lowest unemployment rate in decades. This shortage has become a huge challenge for employers across industries, making it more difficult to find the talent businesses need to thrive and grow. So, how can you attract top talent and reduce employee turnover? The key is to build a company culture that people want to be a part of and to find ways to help your team feel valued. Security Business Capital knows seven great ways to show your appreciation to your employees throughout the year.
Learn Your Team's Individual Interests
One of the easiest things you can do that says "I appreciate you" is to learn more about each individual on your team and acknowledge their interests. Ask questions about their family, their hobbies, their weekend, etc. Your genuine interest in their interests causes people to feel valued and cared for. You can also take this a step further by tailoring recognition and rewards to employee interests. For example, some individuals prefer rewards, while others desire recognition.
Provide Opportunities for Growth
A lack of growth opportunities is one of the top reasons for employee turnover. In addition, 87 percent of millennials, which make up the largest generation in the U.S workforce, say professional development is important to them in a job. From investing in training programs and online training to offering time off so they can attend education events, show you appreciate your team by providing opportunities for them to enhance their skills and further their careers. Reward their desire and drive for education and improvement.
Let Employees Have a Real Voice
Showing appreciation in the workplace goes beyond just being thankful. You must instill trust, teamwork, and respect for the individual contributions it takes to build a successful team and business. As a business owner, building a culture of appreciation in the workplace starts with you. One way you can accomplish this is to give your employees a real voice. For example, allow your staff to choose the projects they work on from time to time, listen to their ideas, take the time to mentor them and make sure they have the tools they need to be successful.
Offer Flexible Scheduling
Stress is one of the biggest complaints in the workforce today. Being able to balance their time off with that of their coworkers or even work remotely helps your employees better manage life's demands. In turn, they will have less stress, be more productive and have more positive feelings about their job. Since a flexible work schedule is something employees desire year-round, it is one of the top ways you can show your appreciation.
Rethink Your Office Layout
Do you have a space in your office where your team can relax and temporarily escape from their work routines? If not, now is a great time to rethink your office design. For example, a breakroom with an inviting furniture layout encourages small group discussions and creative collaboration. Your team will appreciate having a relaxing place to work on projects, finish up paperwork or simply unwind. Incorporating flexible seating arrangements, access to snacks and drinks and adding a little personality to the space can also boost employee morale and productivity.
Say "Thank You" More Often
It is easy to slip into the mindset that your employees are there to do what is tasked to them, taking their hard work and dedication for granted. Never underestimate the power of a simple "thank you." You might wonder if it really matters, but there is a noticeable difference between staff that hear a genuine "thank you" and those who do not. Research shows a 50 percent increase in the level of productivity and the amount of help being offered as a result of sharing your gratitude.
Celebrate Work Anniversaries
Considering the time and resources spent on creating an effective onboarding experience, it seems like such a wasted opportunity to forget the day your employee joined your team. An employee's work anniversary presents the perfect opportunity to thank them for their hard work, dedication and the impact they have had on your business. Recognizing employees and celebrating important milestones reminds them that your company cares about them and wants them to succeed. If done well, it should also remind your employees what they love about your company.
When you create a workplace environment of appreciation and your team views their work as challenging and fulfilling, they are more likely to become inspired to do great work. As we move into a new year, be sure to add employee appreciation to your to-do list. Make it integral to your company culture.
Security Business Capital's Invoice Factoring Services
Does your business need extra working capital to hire more workers, make changes and fund growth? Consider the many benefits of invoice factoring. Through invoice factoring services, you can use your business' unpaid invoices to secure the cash you need quickly and easily. Because you are being given money your business has already earned, you avoid taking on unnecessary debt. Security Business Capital has built a dedicated team of individuals with years of experience in providing flexible cash flow solutions that help businesses thrive, like invoice factoring.
To learn more about how our invoice factoring services work and how they can help your business grow, get in touch with us today for a free quote and/or consultation.