6 Challenges and Trends that Will Shape Manufacturing in 2020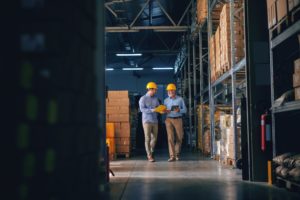 Over the past decade, the manufacturing industry has experienced massive changes and some remarkable gains. Steady industry growth was a trend for manufacturers in 2018, with an increase of 1.1 million jobs over the last eight years. However, a global trade war in 2019 caused the direction of manufacturing growth to slow to the lowest level in nearly ten years.
So, what does the future hold for the manufacturing sector? What opportunities should small and medium-sized manufacturers keep an eye on? How can you prepare your manufacturing business for a new year? Here are just a few of the challenges and trends you should know that will shape the manufacturing industry over the next decade.
Challenges Manufacturers Face
Skills Gap
It is estimated that nearly 4.6 million manufacturing jobs will become available in the next decade, due to retiring baby boomers and changing skill sets. However, nearly 2.6 million of those jobs are expected to go unfilled over the next ten years, as the gap between available jobs and the number of skilled workers grows. Even in an age of automation and robotics, skilled workers are still needed for their problem-solving capabilities, to fill managerial positions, and to perform analysis. To fill the widening skills gap, manufacturers will need to train existing workers to perform skilled tasks and get creative in their efforts to attract workers.
Global Competition
The ongoing trade war between China and the U.S. rages on, causing the short-term outlook for domestic companies to be uncertain. According to the Global Manufacturing Competitiveness Index, China has surpassed the U.S. on the list of the world's most competitive economies. However, the U.S. is expected to regain its top spot in 2020. What will it take for U.S. companies to reclaim and hold that spot? Manufacturers will have to shift their focus to advanced technologies and talent for greater competitiveness.
New Technology
From automation and robotics to cloud computing, the challenge for many manufacturing companies is keeping up with the rapid growth of technology, and then utilizing it. A recent Forbes survey found that 90 percent of businesses understand the important role technology plays, yet less than 40 percent feel they are providing the best tools for bottom-line success. Thus, there is often a disconnect between understanding the need for implementation and actual adoption. To solve this, manufacturers should make sure they choose useful technologies that simplify business processes and grow with their company.
Trends to Keep an Eye On
Reshoring
Recently, reshoring has become more and more common among manufacturers. There are several reasons for this shift. Economies of many go-to offshoring countries have grown stronger, resulting in increased wages for their residents. In the locations where labor is still inexpensive, the infrastructures often cannot handle complex manufacturing operations. Manufacturers utilizing robotics to automate many of the processes that used to require a human is also a driving force behind this trend. All in all, this resurgence in reshoring will lead to an increase in made in the U.S.A products in the future.
Consumer Demands
Changing customer needs and demands have led to a reshuffling of priorities, placing the consumer at the forefront of long-term manufacturing strategies. Consumers are more connected than ever before, thanks to the wealth and quality of the information available. They want a unique, personalized experience from the companies they interact with. As a result, the concept of the "mass market" is being replaced by niches. Many manufacturers will likely turn to systems like additive manufacturing, which allows for small product runs that can be expanded or changed quickly to ensure products fulfill consumer desire or meet a basic need.
Cybersecurity
Unfortunately, as technology advances so does the efforts of cybercriminals. Most manufacturers rely on outdated security systems and are simply unprepared to address the barrage of cybersecurity threats. According to the 2019 Manufacturing and Distribution report, at least half of all manufacturers fell victim to at least one data breach during the past twelve months. The more manufacturers adopt new technologies like automation, the more they will need to invest in and routinely update computer security software and educate employees about the warning signs of security breaches.
Use Invoice Factoring to Grow Your Manufacturing Business
In today's rapidly morphing environment, the only way manufacturers can stay ahead of competitors and grow their business is to embrace change. The ability to adapt quickly, however, depends on having quick access to working capital. Invoice factoring is a financing tool that allows you to sell your business' unpaid invoices to a factoring company to generate immediate capital. Instead of waiting for 30, 60 or even 90 days to receive payment, your business can secure up to 90 percent of an invoice's value in as little as 24 hours.
More and more manufacturing companies are utilizing invoice factoring to maintain positive cash flow, invest in their business, avoid unnecessary debt and carry them through changes and challenges. If you need to boost your business' cash flow, consider the many benefits of partnering with an invoice factoring company. Security Business Capital has built an experienced and dedicated team of individuals with years of experience in providing cash flow solutions that are both flexible and customizable.
To learn more about how our invoice factoring services work and how Security Business Capital can help your business expand, reach out today for a free quote and/or consultation.