5 Startup Fears and How to Conquer Them Before Starting a Business
The main difference between those who own a thriving business and the ones who never bring their plans to fruition is fear. For your business venture to be successful, you need to address your fears proactively. While every entrepreneur's situation and business is unique, there are five common fears many entrepreneurs face before starting a business:
The Great Unknown
Will the skills I am offering be attractive and valued by customers? Have I invested enough money and time? Am I ready to take on the risks?
The unknown can be terrifying, not to mention seemingly impossible to prepare for. Even after creating a business plan, setting aside money and building a strong team, you will have no idea what to expect from that first year. For most entrepreneurs, facing that unknown is a thrilling, yet overwhelming thought.
Entrepreneurship is so much more than a job – it is a lifestyle. This role requires passion, hard work, persistence, vision, and a strong belief in your ideas. Staying true to these qualities will help you conquer any challenge you might face in the early years of your business. Instead of avoiding your fears of the unknown, rely on these qualities to provide you with a sense of direction.
Running Out of Cash
One of the biggest concerns for entrepreneurs is capital, or the lack thereof. Business financing is not always easy to find. Some of the most common reasons your business might be denied funding include:
Too much debt
No solid business plan
Limited collateral
Inadequate cash-flow
Early-Stage startup
Many financial institutions consider early-stage startups to be "too high-risk". Ideally, they want to see a track record, healthy revenues and market experience.
For a startup, these requirements are obviously out-of-the-question. If you are worried about running out of cash, you should consider seeking alternative sources of working capital like invoice factoring, PO funding, grants, crowdfunding, etc. Maintaining sufficient working capital ensures your business can purchase new equipment, increase inventory, cover payroll, fund growth, and preserve a cash cushion for emergencies.
Not Feeling like an Expert
Are you worried about not feeling like an expert in your field? Or are you concerned your product or service is not competitive enough? If you do, you are not alone. Many business founders struggle with self-doubt. The fear of not being good enough can be debilitating for a new entrepreneur.
Your product does not have to be perfect. After successfully launching your product or service, you can make improvements over time. Likewise, you do not have to make all the right decisions, nor do you have to be a perfect leader. Time, experience, continued learning, and a mentor will help you improve yourself. Have confidence that you already know enough about your product or service to answer any questions you might receive and solve the majority of the issues that may arise.
Struggling to Find a Work-Life Balance
In addition to their fears of failing in business, many entrepreneurs also fear failing their family. It can be stressful trying to find a work-life balance in a world that glorifies being busy. According to a Harvard Business School survey, a massive 94 percent of working professionals said they work more than 50 hours per week, and nearly half of them reported working more than 65 hours per week.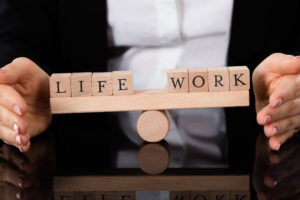 What if you looked at your business plans as an opportunity for your family to grow closer together? Lean on your spouse for his or her support. Teach your children the values of hard work, responsibility and perseverance through your actions. Before you undertake this business venture, talk to your family openly about the risks involved and the time and energy it will require to be successful.
The Fear of Failure
Entrepreneurship is all about taking risks, right? The most successful entrepreneurs know how to defer risk. A recent study by management researchers from the University of Wisconsin reported that entrepreneurs who kept their day job while starting a business were 33 percent less likely to fail than those who quit their day jobs to test their ideas. Successful founders also know how to reduce risk as much as possible. For example, they might test their idea out at the earliest opportunity to avoid wasting time and money chasing a dead end.
If you are afraid of failure and risk, ask yourself if there is a creative way to avoid, defer or reduce the risk? Even the most self-disciplined and prepared individual will experience failure. The key is to change your perspective of failure. Every failure you experience presents an opportunity to learn; a chance to incorporate a new lesson and insight into your business.
To be successful, you must avoid becoming so overwhelmed with fear that you never allow yourself the excitement and blessing of new experiences. Do not allow your fears to paralyze you. When faced with challenges, rest easy knowing that even if you take the risk and fail it is through these experiences that you learn and grow.
Security Business Capital's Business Funding Factoring Solutions
The team of experts at Security Business Capital specialize in helping companies secure the funds they need to operate smoothly, grow their business and take advantage of opportunities. Security Business Capital's invoice factoring services, for example, allows you to use unpaid invoices to secure the cash you need quickly and easily. Invoice factoring is successfully used by many different industries, including: manufacturing/distribution, business services, transportation, oil and gas, among many others.
To learn more about Security Business Capital's invoice factoring option (or other services, like PO financing) contact Security Business Capital for a free quote and/or consultation.
Sources: