4 Effective Strategies for Collecting Money from Customers Who Won't Pay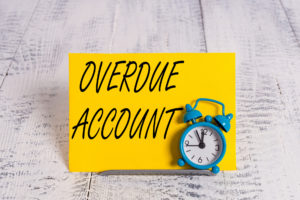 At one time or another, every business experiences late paying clients. There are many reasons why customers don't pay their invoices on time (or at all), from misplaced bills and being dissatisfied to unexpected expenses that tie up their cash. Unfortunately, late or non-paying customers can quickly impact every aspect of your business; it interrupts cash flow, makes it difficult to cover expenses and stalls plans for growth.
When faced with this situation, many small business owners struggle with how to reach out and best ask for overdue payment. If you want to ensure your cash flow stays healthy, however, it is important to take actionable steps when dealing with late payments. Here are a few proven steps to help you approach – and even prevent – non-paying customers.
1. Take a moment to communicate internally
One of the hardest parts of collecting money from late-paying customers is knowing where to start. First, take an honest look at your invoicing policy procedures. Did your business follow the correct procedures for getting paid? Was a friendly reminder sent a week or a few days before the due date? Were payment terms and conditions clear? Was the amount due correct? Did the right person receive the invoice?
Take a moment to communicate internally with your team and ensure there were no mistakes made on your end. It is also important to give your customer the benefit of the doubt – don't assume the worst. Late payments are often due to misunderstandings or an invoice slipping through the cracks.
2. Follow up on late payments right away
Most late-paying customers will pay, you just need to be proactive and persistent. As soon as an invoice becomes overdue, follow-up with your client and send a polite reminder email. There are many payment reminder email templates available that can help you draft an email that is both polite and professional, greatly increasing your chances of getting paid.
Be sure to also check in on the customer's satisfaction with your services, remind them of the different payment methods you accept and outline any late fees that are included in your payment terms. If your emails seem to go unnoticed, it's time to take a different approach and contact your client directly over the phone.
3. Encourage customers to be honest with you
It can also be helpful to understand your customer's reasons for missing payments and encourage them to be honest with you about their situation. While some customers are simply chronic late payers, others may have a legitimate reason as to why they have not paid on time. Finding out what is contributing to your customer's struggle or refusal to pay can help you come up with an effective response.
For example, a customer may be unhappy with their experience or the services, which creates an opportunity to come up with a solution and win their loyalty. Some customers may fully intend to pay your company's invoices, but are having their own cash flow issues and are struggling to do so. In this case, you can consider offering options like extended payment terms and instant payment discounts.
4. Bring in outside help and support
If your repeated efforts have failed, it may be time to bring in outside help and support. One of your best options is partnering with an invoice factoring company (factor). More and more small business owners are discovering the many benefits of utilizing this solution, from back-office support services and flexible funding to smoother business cycles and freeing up valuable resources.
The invoice factoring process involves selling your unpaid invoices to a factoring company at a discount. The factor will then quickly advance up to 95% of your invoice's value, known as the "advance rate." Once your customer pays the invoice, your business receives the remaining amount, minus a small fee. In short, the factoring company takes on the responsibility of collecting payments from your customers – you will never have to worry about the collections process again.
Security Business Capital's Invoice Factoring Services
Could your business benefit from back office support with collections, maintaining records and limiting financial risk? If your business has hard-earned money tied up in outstanding invoices, our factoring services can help. Based in Midland, Texas, Security Business Capital is a premier factoring company with years of experience.
Our team specializes in helping companies take a proactive approach, speed up the payment process, and secure the cash and flexibility they need to grow – all while maintaining complete control over their business' invoices. Oil and gas services, temp staffing, manufacturing/distribution and transportation are just a few of the business types that use Security Business Capitals's invoice factoring services to manage outstanding accounts receivable and generate cash on hand.
If you are interested in learning more about how our invoice factoring services work and how they can help your business, get in touch with us today for a free quote and/or consultation.