How to Turn Unpaid Invoices into Quick Cash with Oilfield Factoring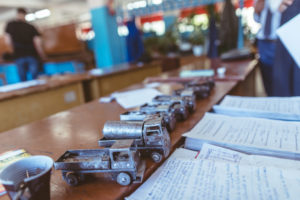 When your customers take 30, 60, or even 75 days to pay your invoice, it places unnecessary stress on your business. A cash flow gap is created that strains your company's finances, prevents you from competing for new projects, and makes it difficult for your business to meet payroll. Purchasing new vehicles and making equipment repairs will also become a challenge. In short, insufficient cash flow can seriously restrict the growth of your business.
Are you searching for a way to maintain consistent cash flow? Do you need a solution that helps you better manage slow-paying customers? Oilfield factoring with Security Business Capital gives oil and gas companies the ability to turn their outstanding invoices into immediate cash.
How Does Oilfield Factoring Work?
The process begins when your business partners with a reputable and experienced invoice factoring company. Once you have been approved and an account has been set up, you can sell your outstanding invoices to the factoring company at a discount. The factoring company will then advance the working capital needed against your business' unpaid accounts receivable.
The initial cash you receive is known as the "advance rate". This advance rate will typically range from 80% to 90%, but will ultimately be determined by the size of the transaction. Your customer is then obligated to pay the factor according to the terms of the invoice, usually within 30 to 60 days. Once the factoring company has collected payment from your customer, you will then receive the remaining balance of the invoice, minus a small factoring fee.
While the factoring company is busy working on the collections process, your business operates as usual. You can even submit new invoices for funding during this time, if needed. Rather than having to follow up on customer invoices, you can focus on new projects and opportunities. All in all, factoring unpaid invoices ensures you have the cash you need to say "yes" to a new project, cover payroll and purchase supplies.
The Benefits of Oilfield Factoring  
Whether your business engages in oilfield hauling, roustabout work, pipeline construction, exploration services or another facet of the oil and gas industry, invoice factoring can help. Some of the many benefits of using invoice factoring to generate cash on hand include:
Fast funding


Traditional financing can take weeks or even months before the borrower hears whether they have been approved or denied. In contrast, once you have been approved by a factoring company, you will have access to cash within days – in as little as 24 hours.

Simplicity

To apply for traditional lending, business owners must gather seemingly endless paperwork and devote a lot of time to the process. Invoice factoring is known for providing quick access to cash, speed, and simplicity of the process make it a great option for weekly payroll funding or growth on new projects.

Industry expertise


When it comes to oil and gas factoring, no one knows the U.S. oilfield industry like Security Business Capital. Located in the heart of the Permian Basin, the team at SBC has decades of experience in pairing oil and gas companies with flexible cash flow solutions, like invoice factoring.

Debt-free


Because invoice factoring is not a loan, this cash solution allows your business to avoid new debt. Factoring invoices provides cash your business has already earned and is simply waiting to be paid.

Outsource time-consuming tasks


You can also take advantage of the assistance factoring companies provide with other tedious back-office tasks, like checking payment progress and managing records. You still maintain complete control of your business' invoices, while freeing up valuable time and resources.
How to Choose an Oilfield Factoring Company
While there are many factoring companies to choose from, not all factoring companies specialize in the oilfield industry. Because the oilfield industry has its own unique set of challenges, billing processes and cycles, terminology and practices it is critical that you choose a factoring company that understands the needs of oil and gas companies. A factoring company that has years of experience in working with the oilfield industry will understand the ins and outs and offer quick solutions, competitive rates and flexible contracts.
Security Business Capital has many years of experience in working with companies in the oil and gas industry. Knowing that no two companies are alike, SBC has created cash flow solutions that are both flexible and customizable. The following list includes just a few of the oil and gas businesses SBC has offered services to:
Oilfield Hauling (hotshot, equipment, water, sand, etc.)
Welders
Consultants
Pad site builders
Tank cleaners
If you are searching for an invoice factoring company to build a long-term and productive relationship, consider the dedicated team of professionals at Security Business Capital. We understand that timing is everything for your oil and gas business. Our oilfield factoring services will provide the quick source of funding you need to pay bills on time, invest in additional equipment, hire more workers and increase the size of your business.
To learn more about how our invoice factoring services work, get in touch with us today for a free quote and/or consultation.